Activists Demand Lambert's Sacking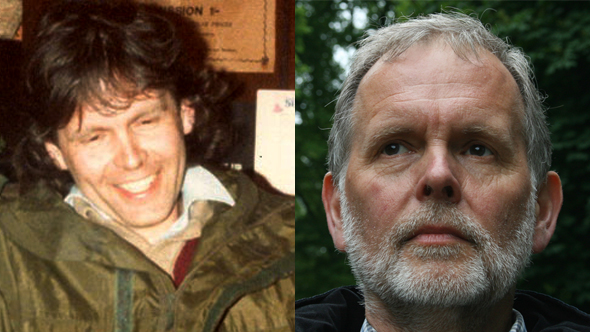 Four prominent activists have written to the University of St Andrews demanding the sacking of lecturer Bob Lambert, former Special Demonstration Squad officer and manager.
The letter, sent on Friday, lists a swathe of wrongdoing by Lambert and officers under his command.
It was signed by:
It comes after Lambert's other employer, London Metropolitan University, has faced similar calls with a succession of pickets and the issue making front page news locally.
The University of St Andrews said
He has been entirely open with the university and his students about his past. His teaching is highly valued by students. Beyond that, as matter of policy, we don't comment on personal matters or the circumstances of our staff.
Whilst this isn't as bold as London Metropolitan University's saying
He has extremely rich experience in professional practice, accepting that some of that is now controversial
it nonetheless tests our credulity. Are they really saying Lambert told the university and students things he says he didn't even tell his wife? Or has he just been firefighting, admitting each revelation after it has been made public?
Do they really think Lambert's history has no bearing on his position? Would they continue to employ, say, a medical lecturer was found to have run a disgraced and disbanded secret clinic that performed unethical, traumatising experiments on patients without consent?
The Sunday Herald reports that the call for Lambert to lose his post is endorsed by MSP John Finnie, himself a former police officer.
I consider his continuing employment a blight on our highly regarded education system and trust it ends soonest.
It adds a new facet to the clamour around the spycops scandal in Scotland. With Scottish police already under fire for spying on journalists, in recent weeks, as we have already covered, there has been a call in the Scottish Parliament for a proper inquiry into the political secret police's activities there. As well as coverage in the Scotsman, there has been a series of articles in the Sunday Herald and an MSP calling for an inquiry into blacklisting.
FULL TEXT OF THE LETTER
Dear Professor Richardson,
We write regarding Bob Lambert who is listed as a lecturer at the University of St Andrews' Centre for the Study of Terrorism and Political Violence. We believe that his past conduct as a central figure in the Metropolitan Police's Special Demonstration Squad means that he is supremely unsuitable for teaching and shaping the thoughts of others in his current position.
His University biography asserts that "For the bulk of his police service (1977–2007) Robert Lambert worked in counter-terrorism, gaining operational experience of all forms of violent political threats to the UK, from Irish republican to the many strands of international terrorism that include what may now best be described as the al-Qaida movement."
In reality much of his career was spent within the Special Demonstration Squad which was set up to monitor protest groups – more counter-democratic than counter-terrorist. The SDS' abuse of citizens and undermining of legitimate campaigns are one of the darkest corners of Metropolitan Police history. Lambert is no role model and should not be trading on his abuses.
It is not only Lambert's personal conduct undercover that is damning. He went on to run the Special Demonstration Squad, overseeing deployments that largely repeated his pattern of behaviour, hallmarked by the same abuses. For years he directed a raft of officers whose actions were – to use the words of police investigators – morally wrong, completely improper, gross abuses of their role in deployments that were abject failures.
In the four years since he was exposed, many new facts about the SDS have come to light. With each new revelation the scandal grows, and there are two notable constants in almost every case – Bob Lambert is integrally involved, and he has not mentioned it before.
Bob Lambert is responsible for acknowledged human rights abuses.
Last month the Metropolitan Police issued an unprecedented apology to seven women deceived into long term intimate relationships with undercover officers, including one of Lambert's former partners, Belinda Harvey, and women targeted by officers supervised by Lambert. The apology unequivocally states that the relationships were "abusive, deceitful, manipulative and wrong" and that "these relationships were a violation of the women's human rights, an abuse of police power and caused significant trauma".[1]
In a separate case Bob Lambert deceived another woman, Jacqui, into a relationship and even fathered a child with her despite knowing he would disappear from their lives once his posting as an undercover officer ended. This relationship led to a record compensation payout by the Metropolitan Police to Jacqui in October 2014.[2] Even after he was outed in October 2011, Lambert did not make contact with Jacqui or their son, waiting until she discovered the truth by chance in the press. A statement he issued in Oct 2011 apologised to Belinda Harvey (about whom he had been questioned) but made no mention of Jacqui or other women he had deceived.[3]
Lambert now admits that he had four sexual relationships whilst in his undercover persona.[4] He not only had these relationships, he was later the SDS manager who deployed numerous other officers who did the same. Operation Herne, the police's own investigation into political undercover policing notes of these relationships; "Such an activity can only be seen as an abject failure of the deployment, a gross abuse of their role and their position as a police officer and an individual and organisational failing."[5]
In addition to these abusive relationships, Lambert and the SDS have been shown to be involved in:
Stealing the identities of dead children: Lambert stole the identity of Mark Robert Charles Robinson, who died aged seven of a heart defect.[6] The practice has been condemned by the Home Affairs Select Committee who said it "was not only ghoulish and disrespectful, it could potentially have placed bereaved families in real danger of retaliation".[7]
Deceiving courts: Lambert admits being arrested "four or five times" and prosecuted under a false identity. He claims he cannot remember if he was convicted.[8] This raises serious questions about perjury and perverting the course of justice. Additionally, he co-wrote the What's Wrong With McDonald's? leaflet that triggered the McLibel trial, the longest trial in English history.[9] The fact of Lambert and the SDS' involvement was kept from the court.
Spying on the family of Stephen Lawrence: Lambert was the SDS manager whose officers spied on the Lawrences. He oversaw Peter Francis, who says he was tasked to 'find dirt' with which to discredit the family (a charge Lambert denies but which the Ellison Review recommended is fully investigated by the Public Inquiry into undercover policing).[10]
Five years after the murder Lambert brokered a meeting between one of his officers who had been spying and the Commissioner's team at the Lawrence Public Inquiry. This has been condemned by Mark Ellison QC's report as "wrong-headed and inappropriate… a completely improper use of the knowledge the MPS had gained by the deployment of this officer",[11] and Lambert was referred to the Independent Police Complaints Commission. The investigation appears to still be ongoing. The fact of the SDS spying was kept from the Public Inquiry and all other investigations into the case.
This was one of at least 18 similar family and black justice campaigns spied on by the SDS, including others targeted by officers under Lambert's direction.
Acting as an agent provocateur: Those who knew Lambert under his pseudonym assert that he often berated activists for being "too soft" and encouraged them to take more serious action. He instigated many of the protests he spied on. Perhaps the most serious charge against him is the allegation that he planted an incendiary device in the Harrow branch of Debenhams in 1987 as part of a co-ordinated action against the fur trade which caused damage totalling £9m in three Debenhams stores.[12] It is a charge he has strenuously denied.
However, he claims credit for getting two of the group jailed and yet fails to explain how the mysterious firebomber of the Harrow store got away without even being named or apprehended.
Spying on MPs: In March it emerged that at least ten MPs had been spied on by the SDS. These are elected, public figures rather than the clandestine figures the SDS claimed to be countering. Lambert was one of the SDS managers who deployed officers who spied on the likes of Tony Benn and Jeremy Corbyn.[13]
Construction industry blacklist: The Consulting Association was a company that ran an illegal blackllist of thousands of politically active construction workers. Their files contain information that can only have come from police or the security services. The Independent Police Complaints Commission says it appears likely that every Special Branch supplied information that appears in files for the blacklist run by the Consulting Association.[14] Lambert was the SDS manager who oversaw Peter Francis, who says he believes intelligence he collected is in blacklist files,[15] and also Mark Jenner, who posed as a construction worker and infiltrated construction union UCATT under his false identity.
This was no one-off error, it was a catalogue of abuse that Lambert turned into a blueprint for others.
One has to wonder, if all this is not enough to make him unfit to teach others, what does it take? With fresh revelations coming to light almost weekly and the public inquiry about to begin, we can be confident there will be more.
These were not the actions of a young naïve person. This was years of deliberate, strategic abuse of citizens and undermining of legitimate campaigns.
Lambert's apologies, such as they are, come in carefully worded phrases that only take partial responsibility for what has already been exposed. They appear to be little more than firefighting each revelation as it appears. Did he declare this grossly abusive past – which he says he kept secret from his own family – to the University when he applied? Or did he deceive you as he deceived so many women and other campaigners?
Whichever, it is abhorrent that a man so lacking in moral compass should be in a position where he is shaping the minds of others. The University of St Andrews should terminate his contract.
Yours,
George Monbiot (Honorary DSc, University of St Andrews)
Lois Austin (ex-chair, Youth Against Racism in Europe)
Dave Smith (secretary, Blacklist Support Group)
Helen Steel (McLibel defendant and one of seven women who recently received an apology from the Metropolitan Police)
REFERENCES
[1] Claimants in civil cases receive MPS apology, Metropolitan Police, 20 November 2015
[2] Met pays £425,000 to mother of undercover policeman's child, BBC News site, 24 October 2014
[3] Bob Lambert replies to Spinwatch, 23 October 2011
[4] I was weak and cruel, admits ex-undercover police boss, Channel 4 News, 5 July 2013
[5] Operation Trinity: Report 2 – Allegations of Peter Francis, 16.2, Mick Creedon, March 2014
[6] Anatomy of a betrayal: the undercover officer accused of deceiving two women, fathering a child, then vanishing, The Guardian, 21 February 2013
[7] Home Affairs Select Committee, Undercover Policing: Interim Report, p8, 26 February 2013
[8] I was weak and cruel, admits ex-undercover police boss, Channel 4 News, 5 July 2013
[9] McLibel leaflet was co-written by undercover police officer Bob Lambert, The Guardian, 21 June 2013
[10] The Stephen Lawrence Independent Review, Summary of Findings, p30
[11] The Stephen Lawrence Independent Review, volume 1, p264
[12] Undercover policeman 'fire-bombed shop,' MPs told, BBC News site, 13 June 2012
[13] Police continued spying on Labour activists after their election as MPs, The Guardian, 25 March 2015
[14] Police colluded in secret plan to blacklist 3,200 building workers, The Observer, 12 October 2013
[15] Police 'spied on activists for blacklisting agency', The Guardian, 18 August 2013