Council Meeting Abandoned as Protesters Insist Spycop Andy Coles Must Go
There were chaotic scenes at Peterborough Town Hall last night as former spycop Andy Coles defied protesters' calls to resign and leave the building.
It's been seven years since the first bunch of spycops were exposed.
A group of eight women who were deceived into intimate relationships by undercover officers brought a case against the police. They asserted that this was not merely deceit, but a strategy by the agents of Britain's political secret police. They didn't sue the officers who abused them, but the the employers who devised and enacted the strategy.
In 2015, after four years of police stonewalling, they received a landmark apology. The Metropolitan Police were unequivocal. Assistant Commissioner Martin Hewitt declared
'Thanks in large part to the courage and tenacity of these women in bringing these matters to light it has become apparent that some officers, acting undercover whilst seeking to infiltrate protest groups, entered into long-term intimate sexual relationships with women which were abusive, deceitful, manipulative and wrong.

'I acknowledge that these relationships were a violation of the women's human rights, an abuse of police power and caused significant trauma. I unreservedly apologise on behalf of the Metropolitan Police Service.'
This concerned the actions of five officers. Several of those subsequently exposed had identical relationships, and it can only be a matter of time before the Met uses the same words to describe them.
One was undercover officer Andy Coles, aka peace and animal rights activist 'Andy Davey'. He groomed Jessica for a relationship. He told her he was 24 when he was in fact 32 and already married.
When she discovered his true identity in May this year she spoke out, explaining
'Although not legally underage, I feel that my youth and vulnerability were used to target me. I was groomed by someone much older, and far more experienced (he had been an acting police officer for 10 years) and I was manipulated into having a sexual relationship with him.'
Coles was, at the time, Deputy Police & Crime Commissioner for Cambridgeshire. He resigned within three days of his exposure, but he still clings on to other positions of authority that demand integrity and trust. He is the governor of two schools – West Park Primary and the Voyager Academy – and he is a Conservative member of Peterborough City Council.
He was only elected in 2015, long after the spycops scandal broke and the public inquiry was ordered. He must have known there was a serious chance he would be unmasked before long, bringing his role and local party into disrepute.
Last night was the first full council meeting since his exposure. Around thirty people demonstrated at Peterborough Town Hall, talking to councillors and the public, and handing out leaflets detailing Coles' past.
The meeting began at 7pm but lasted less than five minutes. People in the public gallery asked why Coles was present when anyone else, so damningly unmasked, would be suspended or – as he has done from the Deputy PCC post – resign.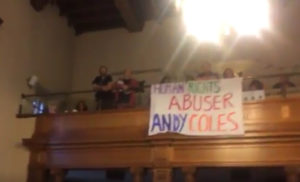 A banner painted by Jessica herself was hung from the public gallery saying HUMAN RIGHTS ABUSER ANDY COLES.
It is not a controversial statement, it merely echoes how his erstwhile employers have described officers like him. The mayor adjourned the meeting and refused to reconvene it until the banner was removed.
The people in the gallery refused to remove the banner until Coles left the building. Jessica, and those like her, have been quiet for too long already.
Coles refused to leave and so, after an hour's standoff, the mayor formally abandoned the meeting. It has been postponed until Wednesday next week, 26 July. The people in the public gallery left, vowing to return next week and bring their friends.
Afterwards, Conservative council leader John Holdich defended Coles, telling the Peterborough Telegraph
'You are innocent until you are proven guilty. Unfortunately Cllr Coles is not allowed to speak for himself because the Met have told him he must not say anything and he is obeying that.'
Coles is in fact allowed to speak for himself, as other spycops have done, but he is choosing not to comment. That is very different to being unable to speak. His stance is perhaps due to him knowing that nothing he says can defend or mitigate what has already been unequivocally condemned by those he abused, the Metropolitan Police and wider society. He has already indicated this by resigning as Deputy PCC.
His clinging to the equally untenable position of councillor is insulting to the women he abused and to the council itself. He must go.