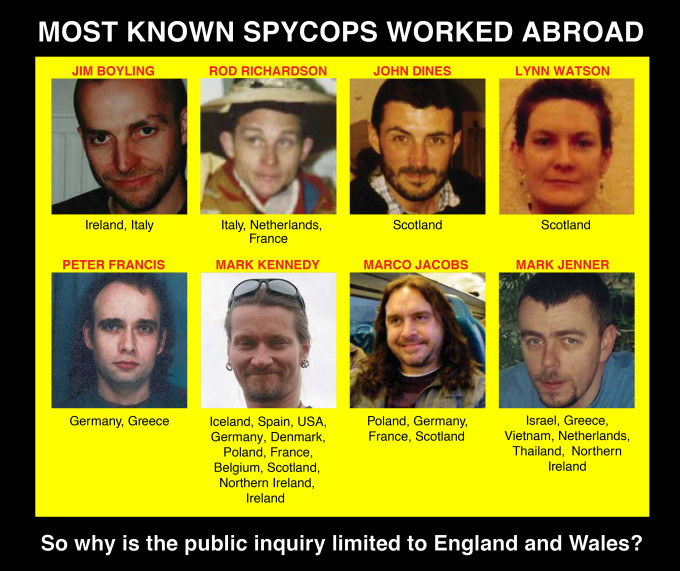 As children in school we are taught that the best way to organise a nation in the interest of its citizens is with a democratic system, and that this system can't be flawed because of its checks and balances. Yet recently the Irish government has been proving that the opposite is true, it is operating to protect itself and its security apparatus against the best interests of the people.
This situation has arisen after British police admitted human rights abuses done by their undercover police officers who violated human rights of a number of women by having intimate relations with them during operations.
Four of these officers so far have also been exposed as having operated in Ireland, and victims now demand answers about who was responsible for such international political policing. Yet despite being confronted on the topic by oppositional MPs, Irish government representatives repeatedly say that the issue of exposing the truth and having a transparent inquiry into the abuse 'does not arise'. Such a position made by any elected official can only serve to chip away at faith in the system they represent.
The continually growing secret policing scandal led then-UK Home Secretary Theresa May to create the Undercover Policing Inquiry (UCPI) to look into two political undercover policing units, but with a remit limited to England and Wales. It had also been revealed that most outed undercover officers had operated abroad in a total of at least 17 countries, including the officers who were in Ireland: Mark Kennedy, John Dines, Jim Boyling and Mark Jenner.
Among targeted Irish groups were those opposed to genetically engineered crop testing and Shell to Sea, a group concerned with protecting fisheries and the environment in County Mayo.
Despite the fact that most known officers went abroad, due to its remit the UCPI refuses to properly examine activity outside England and Wales. Civil rights campaigners and parliamentarians outside England and Wales have responded with demands for answers.
On 8 February 2017 the Irish Justice Minister Francis Fitzgerald replied to a Parliamentary Question by answering
'should anything emerge from the findings of the UK's Undercover Policing Inquiry that would be relevant to policing in this jurisdiction I will consider it fully and take any action that may be required'.
However, the minister is either bluffing or is not aware that nothing relating to any events occurring outside England and Wales will be investigated by the UCPI, thus rendering her argument meaningless.
Further problems have arisen from excluding jurisdictions outside England and Wales. High-level German interest in being included in the UCPI stems from scandal around illegal activities by undercover officer Mark Kennedy. On this basis, German MPs Andrej Hunko and Hans-Christian Stroebele moved to have the Home Office include Germany in the UCPI.
The Home Office Minister of State for Policing, Mike Penning, responded on 13 November 2015. He referred to the original terms being limited to England and Wales, and continued,
'The Inquiry team has confirmed that they would encourage witnesses to provide a complete picture when submitting their evidence, although they will need to consider evidence against the terms of reference'.
This clearly meant evidence of events occurring outside England and Wales could be submitted, but would not be examined fully by the Inquiry. More, it meant that issues around activity abroad cannot be mentioned if they don't directly connect with actions in England and Wales.
After further scandal about UK undercover operations in Germany were exposed in the press and questioned in Parliament, the German Interior Ministry confirmed that on 31 May 2016 they had formally asked the UK Home Office to extend to the UCPI to include British undercover operations in Germany.
However on 14 September 2016 the German Interior Ministry wrote to MPs Hunko and Stroebele, saying that he had received a communication from Brandon Lewis in the UK Home Office stating that in order to prevent further delay to the UCPI and improve public trust in the work of the police, they refused to include undercover operations in Germany into the remit of the Inquiry.
A legal action was begun in Germany by UCPI witness and Core Participant Jason Kirkpatrick on 20 July 2016, based upon Kirkpatrick's having been targeted numerous times in Germany by Mark Kennedy. The UK government flatly refused to extend the UCPI to Germany, stating:
'The particular high profile allegations which prompted the decision to commence an Inquiry were primarily if not exclusively about events said to have originated from English and Welsh police forces, and alleged to have occurred in England and Wales. They were about alleged miscarriages of justice, alleged sexual relationships between male undercover officers and members of the public'.
The sexual relationships are, by the police's own admission, a violation of human rights and an abuse of police power. The fact that women (British and otherwise) have suffered the same abuse outside of England and Wales appears to be something the Home Secretary hopes to not hear, see or speak of.
Education of the Irish Justice Minister is ongoing, and it is hoped she will also soon request inclusion in the UCPI just as her German, Northern Irish and Scottish counterparts have done.
Despite Irish government intransigence and the UK's rebuffing of German and Scottish attempts to be included in the UCPI, there is still hope elsewhere. A case brought in Northern Ireland recently has led to judicial review of the British government's refusal to widen the UCPI. That court date is expected to be towards the end of 2017.
Amidst growing concern about whether the UCPI would 'follow the evidential trail' beyond England and Wales, solicitors for the activist Core Participants in the Inquiry recently sought clarification from UCPI staff. On 1 November 2016 the UCPI solicitor Piers Doggert wrote,
'it is likely that the activities of some of the undercover police who will be examined by the Inquiry will have taken them outside of the jurisdiction of England and Wales during the period in question. They may have travelled with other non-state witnesses and both may wish in due course to give evidence about this. In so far as what occurred during that period forms part of the wider narrative of tasking of the officer, or the relationship under consideration, then that evidence will be received by the Inquiry and may form part of the narrative within the final report.

'However, the Inquiry will not attempt to form any judgement about the legality or propriety within a jurisdiction outside of England and Wales of the actions of an undercover police officer from England and Wales; the terms of reference preclude it from doing so'.
In other words, no matter what crimes and abuses an officer committed abroad, if it can't be made to relate to actions in England and Wales the Inquiry won't even hear it; and even the deeds they do hear about cannot be properly taken into account.
Clearly this situation is absolutely unacceptable. If justice is to be done by the UCPI, then it needs to truly follow the evidential trail wherever these spycops have committed their abuses. To force this to happen, more victims of their spying will have to continue telling their stories to the press, speaking out in public, pushing supportive politicians to fight for us, and bringing forward legal actions.
As the public continues to hear our stories and our voices grow stronger, we can already start to savour a taste of the justice that we can create for ourselves, as we begin to see this corrupt political policing house of cards tumbling down.