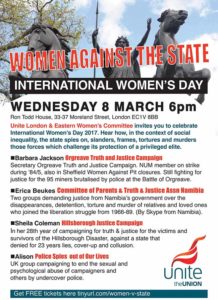 Unite London & Eastern Women's Committee invites you to celebrate International Women's Day 2017.
In the context of social inequality, the state spies on, slanders, frames, tortures and murders those who challenge its protection of a privileged elite. Women have led the way in many struggles against the state.
SPEAKERS
Barbara Jackson
Orgreave Truth and Justice Campaign
Secretary, Orgreave Truth and Justice Campaign. NUM member on strike during 1984-85, also in Sheffield Women Against Pit closures. Still fighting for justice for the 95 miners brutalised by police at the Battle of Orgreave.
Erica Beukes
Committee of Parents & Truth & Justice Association Namibia
Two groups demanding justice from Namibia's government over the disappearances, detetention, torture and murder of relatives and loved ones who joined the liberation struggle from 1966-89.
(By Skype from Namibia).
Sheila Coleman
Hillsborough Justice Campaign
In her 28th year of campaigning for truth & justice for the victims and survivors of the Hillsborough Disaster, against a state that denied for 23 years lies, cover-up and collusion.
Alison
Police Spies Out of Lives
One of a group of women who took legal action against police after being deceived into long-term relationships by undercover officers. Group campaigning to end the sexual and psychological abuse of campaigners and others by undercover police.
Refreshments will be available.