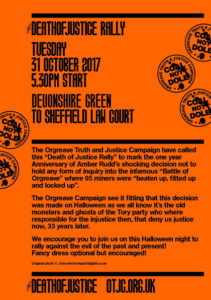 When: Tuesday October 31st, Hallowe'en Night, 17:30
Where: Sheffield, Devonshire Green
March to Sheffield Law Court
The Orgreave Truth and Justice Campaign have called this Death of Justice Rally to mark the one year anniversary of Home Secretary Amber Rudd's shocking decision not to hold any form of inquiry into the infamous "Battle of Orgreave" where 95 miners were beaten up, fitted up and locked up.
The Orgreave Campaign see it fitting that this decision was made on Hallowe'en as we all know it's the old monsters and ghosts of the Tory party who where responsible for the injustice then, that denies us justice now, 33 years later.
It can be seen as part of a wider pattern of denying justice to victims of state abuses. The delayed Undercover Policing Inquiry being given a new Chair who is reorientating it to protect the abusers under investigation. Panel members of the stalled Child Sexual Abuse inquiry resigned and described serious interference from the Home Office.
Speakers will include Helen Steel, who was deceived into an intimate relationship by Special Demonstration Squad officer John Dines.
We encourage you to join us on this Hallowe'en night to rally against evils of the past and present. Fancy dress optional but encouraged!
The route of the march can be found here.
Spread the word with the Facebook event.