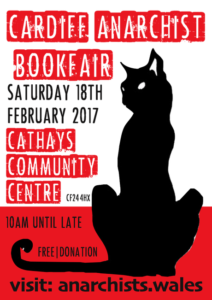 On Saturday 18th February the Cardiff Anarchist Bookfair returns to Cathays Community Centre.
There will be a whole day of workshops, talks and debates, plus a hall full of stalls, plenty of food, live musical entertainment, and much more.
Fighting Back Against the Spycops talk will be at 12 noon with Police Spies Out of Lives, the Undercover Research Group and one of the women deceived into a relationship by an undercover officer.