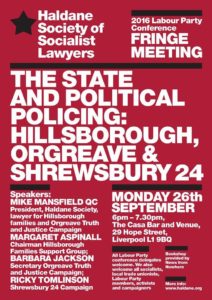 Coinciding with the Labour Party conference in Liverpool, this meeting has a heavyweight lineup of people involved in decades of struggle for justice.
The Hillsborough, Orgreave and Shrewsbury cases began with events of the 1970s and 1980s, and show the same pattern of state abuse and sustained cover up.
The families of 96 Liverpool fans who died due to police incompetence at Hillsborough have won great victories in bringing the truth to light, not just about the events of 15 April 1989 but about the years of co-ordinated cover-up by police from many forces and other arms of state.
Five years earlier the same South Yorkshire force fought the Battle of Orgreave. Amidst the intense desire of the government to break the miners' strike, police launched a furious attack on pickets. Afterwards, 95 were charged with violence but cases collapsed in what Michael Mansfield QC called 'the worst example of a mass frame-up in this country this century'.
After years of dragging its heels, last year the Independent Police Complaints Commission admitted there was 'evidence of excessive violence by police officers, a false narrative from police exaggerating violence by miners, perjury by officers giving evidence to prosecute the arrested men, and an apparent coverup of that perjury by senior officers' at Orgreave.
The two events are so interlinked that fear of prejudicing Hillsborough investigations is the given reason for Orgreave not having a proper inquiry.
The Shrewsbury 24 have waited even longer for justice. Arrested during the 1972 building workers' strike, six were imprisoned including Ricky Tomlinson who later found a career as an actor in Brookside and the Royle Family. The co-ordinated efforts of construction firms, police and security services to stitch up workers is well-known to those who have followed the blacklisting scandal. Despite all the evidence, the government is still refusing to release the Shrewsbury files and Tomlinson has been denied 'core participant' status at the forthcoming public inquiry into undercover policing.
Speakers:
Michael Mansfield QC, lawyer for Hillsborough families and the Orgreave Truth and Justice Campaign
Margaret Aspinall, chair of the Hillsborough Families Support Group
Barbara Jackson, secretary of the Orgreave Truth and Justice Campaign
Ricky Tomlinson, Shrewsbury 24
This is billed as a Labour Party conference fringe meeting, but is open to all who are interested.
Bookstall by News From Nowhere.