A y
ear ago today the Metropolitan Police apologised to seven women who were deceived into relationships with officers from Britain's politcal secret police squads.
Since then the Met have continued to drag out identical cases with other women they abused. They have  tried to draw a thick veil of secrecy over the forthcoming Pitchford Inquiry, which is so woefully under-resourced that it is behind schedule before it has even begun.
The Met are still refusing to be accountable, compounding the damage done to citizens.
This afternoon campaigners gathered at the Home Office demanding an end to obfuscation with this statement:
Political Undercover Policing: Time For The Truth
In March 2015 Theresa May, as Home Secretary, ordered a Public Inquiry into Undercover Policing in England and Wales. This followed from shocking revelations made by campaigners, whistleblowers and journalists that since at least 1968 there had been secret political policing units in the UK infiltrating protests groups in order to obtain so called 'intelligence' on those movements.
As part of this, undercover police officers were revealed to have:
spied on people campaigning for social justice and/or environmental sustainability
even spied on grieving families & friends of people who had lost loved ones to racist or police violence or negligence, who were seeking truth & accountability
deceived women into relationships while undercover, even fathering children
illegally given people's personal details to private companies who blacklist trade unionists and other campaigners
stolen the identities of dead children
The Public Inquiry started in July 2015 but victims of this police spying have learned nothing so far about how and why this spying occurred. Instead they have been sidelined by the Inquiry while the police who are responsible for the abuse have been allowed to continue their cover up and delay and frustrate the purpose of the Inquiry.
It is exactly a year since seven of the women who were deceived into long term intimate relationships with undercover police officers were given a public apology by the police who acknowledged that the relationships amounted to an abuse of the women's human rights. But despite this, no information has been provided about how these relationships were allowed to happen and the police even still ludicrously refuse to admit the names of some of these officers.
Over 180 victims have been granted 'core participant' status at the Inquiry, but they are only allowed to represented by one barrister who has to agree responses on important issues without being able to consult. In contrast, the police have been allowed four barristers.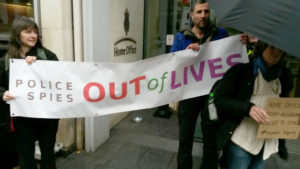 On top of this, while the Home Office has provided funding for 63 staff for Operation Herne, the police's own widely discredited investigation into undercover policing, the Public Inquiry team has just 27 staff and so far does not even have a working secure computer on which to store the massive volume of documents created by Britain's secret political policing units.
All this facilitates the police in being able to cover up their abuses and in preventing victims and the wider public from learning the truth about political undercover policing in the UK.
The Home Office has also so far refused to extend the Inquiry to include the activities of these officers when they left England & Wales.
Even Scotland has not been included – how can the Inquiry gain a true picture when so much remains hidden from it and the public?
Enough is enough. We demand:
the release of the cover names of all the officers in these political undercover units and the names of all the groups spied on, so that people can then give evidence to the Inquiry about the actions and effects of these spies
secret files are released to the campaigners and politicians who were spied on
funds are redirected away from Operation Herne to the Inquiry
the actions of these officers are investigated whichever country they took place in
an end to the police cover up We should all be concerned about the existence of secret political police – they undermine and prevent social change so protecting the interests of the wealthy & powerful rather than everyone else.